Discover more from Family Meal
(Usually) good news for and about the restaurant industry.
Over 7,000 subscribers
Gaggan's Final Days, According to Gaggan
Almost exactly one year before he was scheduled to close his restaurant for good, chef Gaggan Anand and 65 of his staff abruptly resigned from the business that made him rich and famous. Here's what happened, according to Gaggan.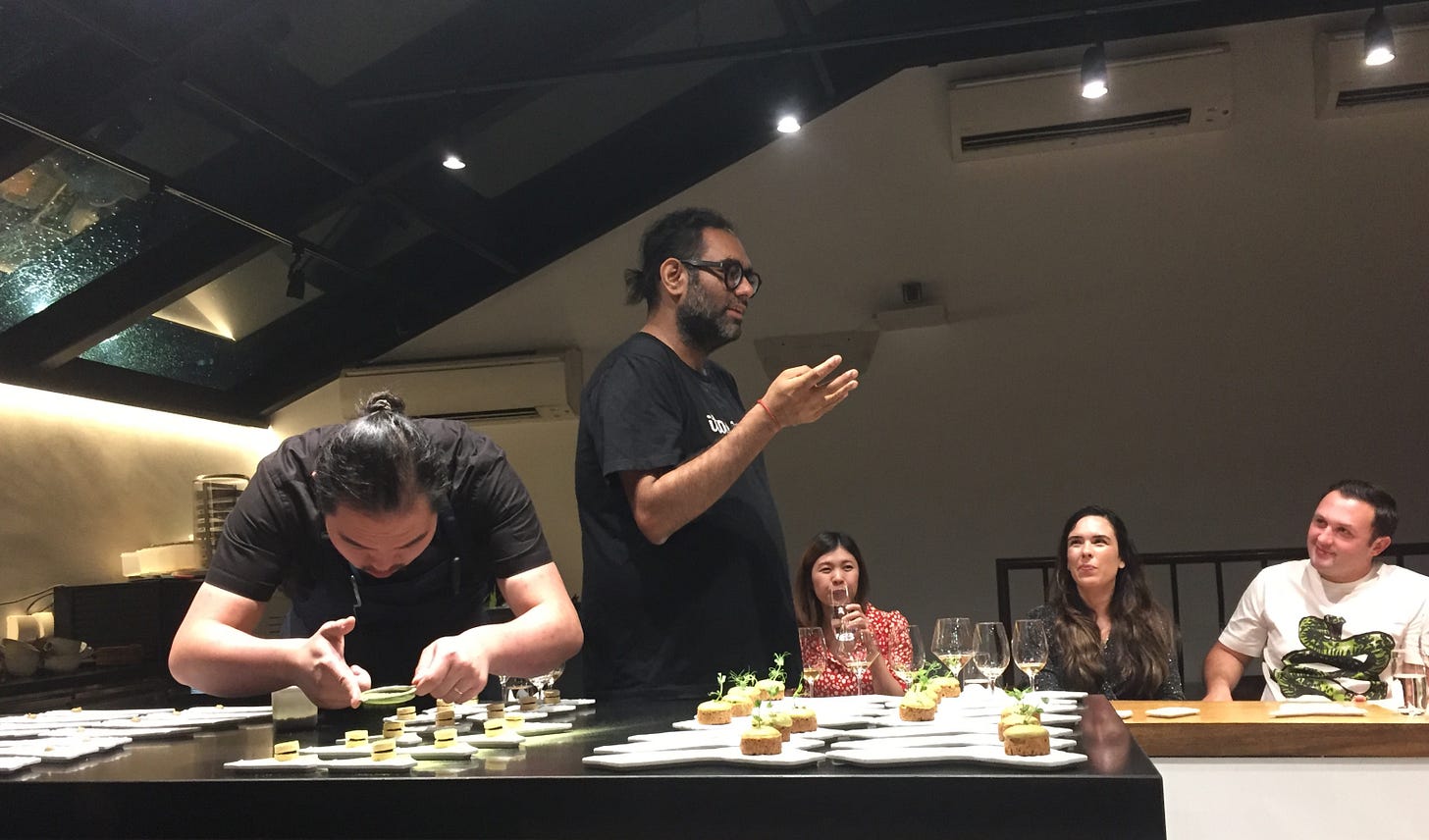 Gaggan Anand hosts dinner in "The Lab" on the penultimate night of service, Friday, August 23rd, 2019.
BANGKOK – On August 24th, 2019, Gaggan, probably the most famous Indian fine dining restaurant in the world, closed for good. It held two Michelin stars, a spot in the top 5 of the World's 50 Best Restaurants list, and a reservations book pushed to waitlist for the next 10 months. The reason given was standard: Business differences between the investors, who owned most of the company behind the restaurant, and the eponymous star chef, Gaggan Anand, a minority shareholder. But what's odd about this sudden shutter is that the team had already announced in 2016 that they were going to close Gaggan in summer 2020, to end on a high note after ten years in business.
The way Gaggan tells it — and it should be emphasized that what follows is only his side of the story; attempts to reach the partners have not yet been successful — the cracks began long ago, "when business started to become business, and I started to become Gaggan." And though the underlying natural tension that came with differing levels of fame and perceived success wasn't the only problem, at best it didn't help resolve other issues, at worst it may have caused more. There were the failed deals in Dubai and with the Four Seasons Mumbai that Gaggan says strained relations with his partner Rajesh Kewalramani. There was the steak restaurant, Meatlicious, that Gaggan opened without the other partners ("I thought they were non-beefeaters, and wouldn't want to make money in beef"). There was a growing mistrust.
Gaggan says the mistrust is ultimately what soured everything for him. There had always been arguments, but when he started getting questions about how he was using resources, when his purchase orders started getting held up, and when the partners began telling him to scale back staff perks, he decided he couldn't stay much longer. "I can't have them checking on me. It's too suffocating for me. It's too suffocating for me to want an ice cream machine for my staff and have to ask permission. It's too suffocating. And the company makes a lot of profit. So if I'm doing a loss, I am answerable to them, but we are making way more money than anyone else in this industry."
He insists he had not given his partners any reason for increased scrutiny, but in mid-June 2019, a full year before the restaurant was supposed to close, it all came to a head.
Here is what actually happened in those final days, according to Gaggan. On June 17th, the chef was at Wet, the wine bar he and his partners own next door to the restaurant in Bangkok, when he heard Rajesh, his brother Latesh (also a partner), and their families speaking nearby. He went over to say hello, but Rajesh began asking what felt like aggressive questions about recent expenses and the bills for their latest pop-up at LA Bowl. Gaggan got angry and left, but still went back to the restaurant to put on another show for his guests that night.
The next day, after spending most of the morning and early afternoon with his young daughter while his wife was away at a conference, he got a call. Rajesh and Latesh were at the restaurant, going through the books from the night before and questioning the cashier and manager about the numbers. Gaggan was furious. "Checking my cashier whose salary is [considerably less than what Gaggan and his partners make], who's worked for me for ten years, who makes Thai staff food for no extra cost for all the Thais. And she was crying, and my manager was crying. When I reached the restaurant my partners had already left… I spoke to [the cashier and the manager], and I felt obliged to them. I felt embarrassed to them. I felt apologetic to them. And I felt like a cancer had gone where the trust with money had gone, and if that cancer has entered this restaurant, I can't continue working here. Then I will be watched in everything I do."
He says he called three people: his wife, his mom, and his lawyer. His wife told him she was with him all the way. His mom told him she was proud of him ("You're fighting for your rights, and you're fighting for others' rights, and you're fighting for what's right."). His lawyer helped him draft an ultimatum.
In a document dated June 21, 2019, Gaggan's lawyers gave his partners two options. They could either: (A) Reduce their total shares to 30%, transfer all remaining shares to the chef "without consideration," give Gaggan a salary bump to 15% of total revenue, and relinquish all control of the restaurant's operations; or (B) Sell Gaggan all of their shares and be out of the restaurant altogether. He proposed a price of 10 million Thai baht — almost $330k U.S. — for each of their 25% stakes, in effect offering the partners almost $1M for full ownership of the business.
They had two days to decide, with a deadline of June 23rd. Gaggan tendered his resignation, effective August 24th, the next day. It was the day before the World's 50 Best Restaurant awards, and the chef was in Singapore for the event. He had wanted to make sure he resigned before the ceremony, so that no one could accuse him of doing it as a result of the new rankings, but after speaking with William Drew, Director of Content at 50 Best, he decided it would be better to hold off on making the news public until after the awards. When Gaggan stood to accept the number four position on the list the following night, the brothers, seated a row away from him, did not stand. He says only one shook his hand. Their restaurant, having just become 50 Best's highest ranking restaurant in Asia in the entire 18-year history of that list, would last only two more months.
But the end was not yet certain, and the partners were not yet ready to let go of the business. "They invested only 5M baht each, and the balance sheet?" Gaggan says, "Forget it. On the last day of service we made about 1.8M baht [around $60k] in one day as revenue. I think they've got almost 100 times or more worth of assets of what they invested in nine years."
When everyone got back to Bangkok, Gaggan says the partners tried to ask the chef's team to calm him down, and they had a meeting where Gaggan proposed yet another stock shift. The other partners would still become minority owners, but Gaggan would transfer twenty percent of his shares to head chef Rydo Anton, with the eventual goal of opening a new restaurant called Rydo Anton Gaggan Anand. He claims he offered ten more years of business, with hypothetical restaurants all over the world, and a new structure for capital payouts. "They would not have to work or lift a pen. All they would have to do is come and accept dividends." The key condition was still control.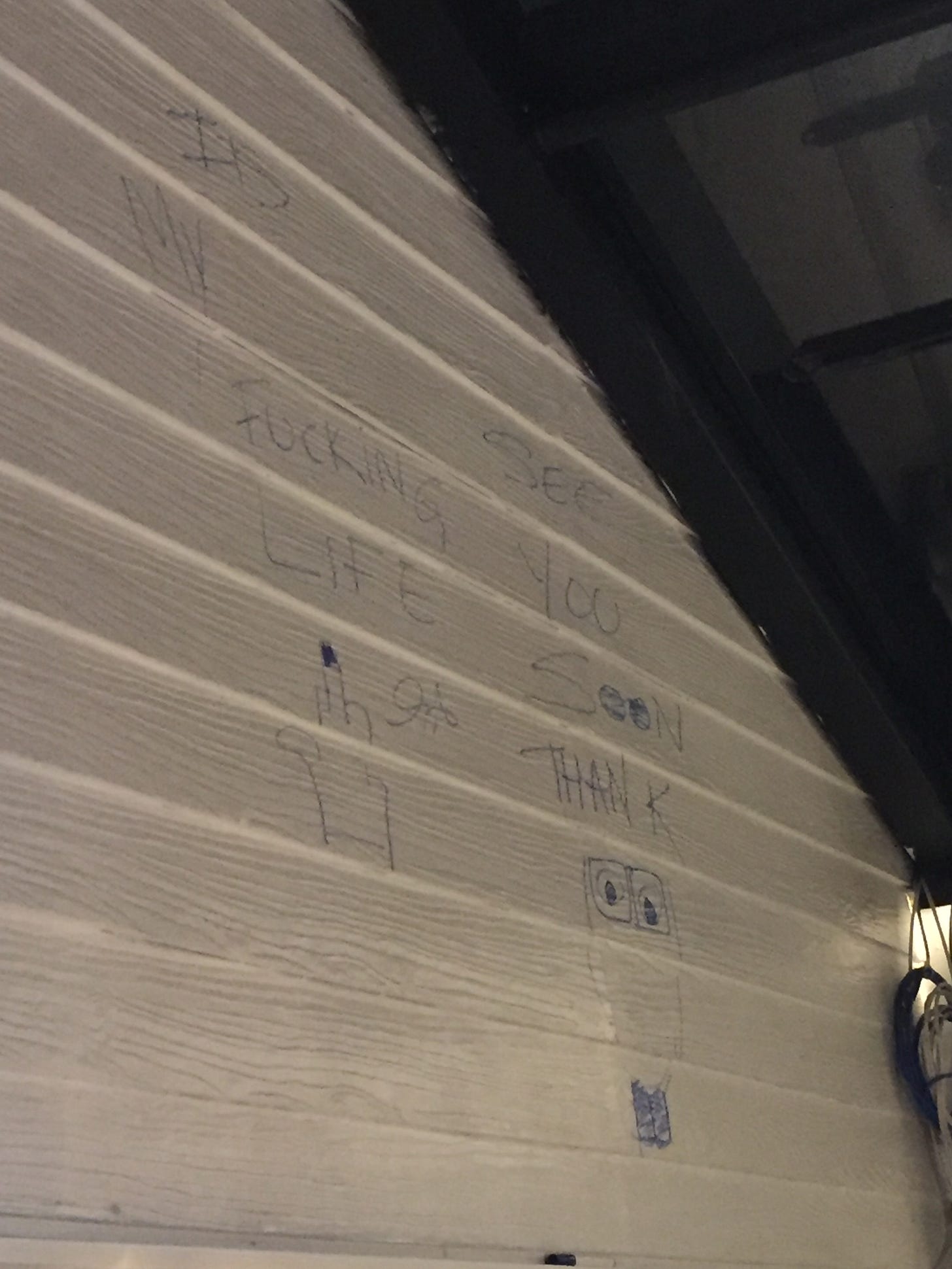 Gaggan wrote "It's my fucking life" on a wall of The Lab in the lead up to closure.
While negotiations went back and forth, Gaggan went public with his resignation in Singapore's Straights Times, citing "major differences" with his investors, but adding, "I'm planning to buy over the other shares and if I succeed, I'll still run the restaurant. Otherwise, I may open a new restaurant."
"I had to go public because they were taking me for granted." He says. "They thought I was not serious. They thought I had nowhere to go."
Gaggan went on vacation. The partners tried a new approach. They installed security cameras throughout the restaurant, called an all-staff (minus one) meeting, and told the team they intended to keep Gaggan open without its namesake chef until at least June 2020, if not longer. Every employee who stayed would be offered four months salary as bonus, to be vested in two chunks over the next year. According to Gaggan, some key staff were offered six to eight month bonuses. The team had until 5PM on July 16th, to decide.
Gaggan says there were no cell phones allowed in the meeting. "I was literally shitting in my pants. Like what are they offering? What will they get?" But when he finally found out the terms: "I was laughing. They did the best they could to offer money, where I was offering love. The whole fight started to protect my staff, and they are offering money?" Only 7 out of 72 employees accepted the bonus scheme.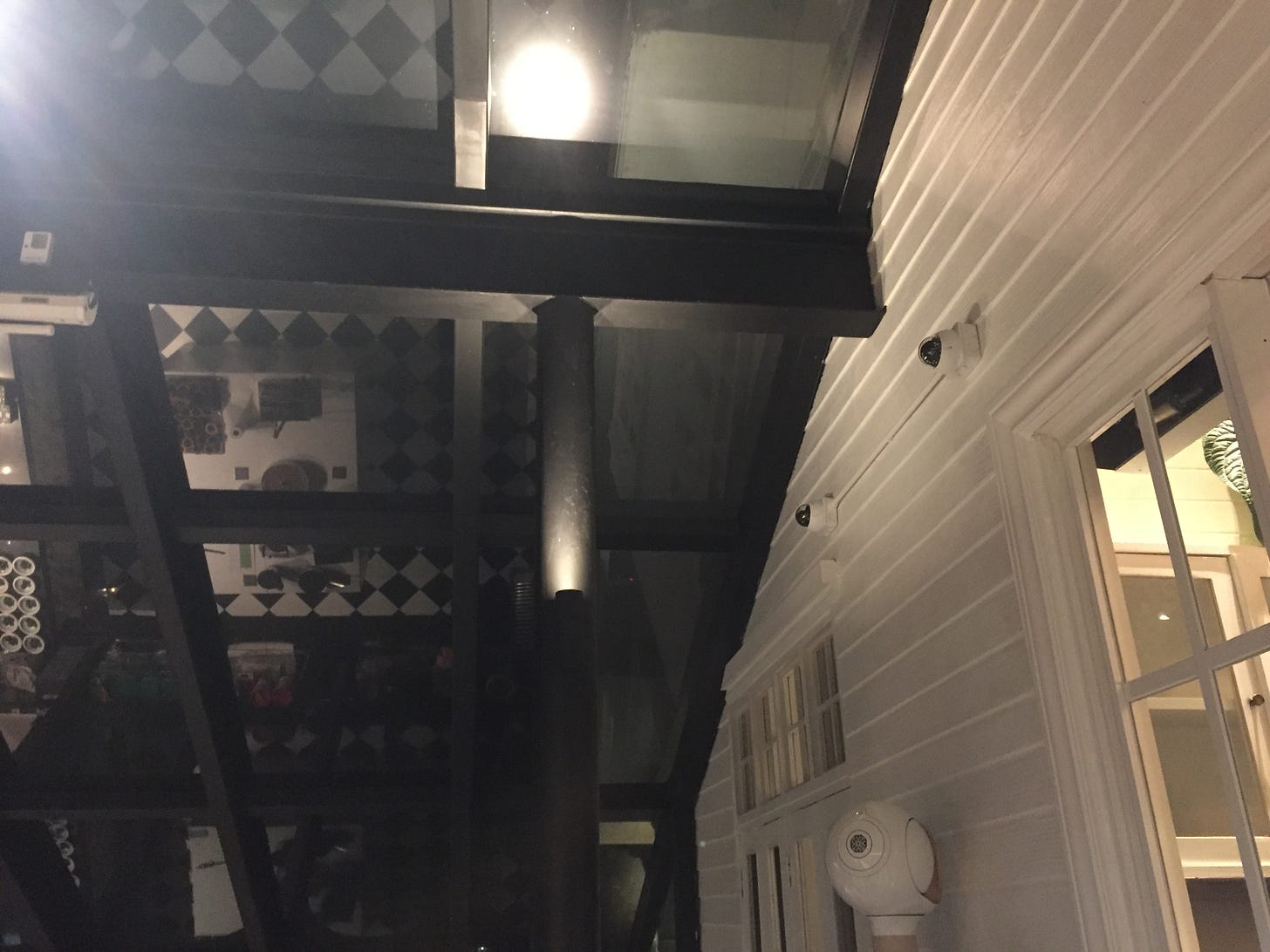 Surveillance cameras on the walls of The Lab at Gaggan, which the chef says his partners installed in mid-July, 2019.
There were one or two more attempts at comity over the next few days, but Gaggan says at one point his wife simply asked him if he really wanted to continue working with his partners, and he had to say no. Then he found out about the trademark.
As he was finishing up his holiday, his lawyer told him that apparently, back in 2013, Rajesh and Latesh had registered a trademark for the name "Gaggan", along with a blue font and logo used on the signage and website, without his knowledge. He and his wife were both livid. "So on the 21st of July, we came back from holiday. We landed here at 12:30PM. We went home. Our daughter was taken care of. And then immediately, we went out looking for locations."
While he'd been away, he says, they had been plotting against him, but he had been plotting his new restaurant. The missing pieces were where and with whom. "We got the location within 48 hours. In the evening we went to the ATM and gave the guy an advance of seven months. So by the 22nd we were sure where we were doing the new restaurant. By the 23rd, we knew who we were doing it with. By the 24th, all my 65 staff willingly resigned [from Gaggan] and said OK we'll open a new restaurant with you."
He thinks that up until this moment, exactly one month before final service, his partners had believed they could keep the doors open with or without him.
The final month was a bitter wrap up. While a parade of new guests and old friends came through the dining room for one last meal, the staff was keeping up appearances under a new regime of frugality and surveillance. Comps were out of the question. Gaggan says some of their final paychecks were docked the cost of alcohol from previous team parties.
And then, two days before close, Rajesh sent him an email asking for the recipes. He responded with his thoughts on the tradeoffs made over the last nine years. "I said, 'You owe me more than that. You owe an apology to my wife, to my daughter, for not spending time with them. I missed my daughter's walking. I missed my daughter saying her first words. I missed everything in the success of this restaurant. And yes, I became Gaggan, but you guys got 75% richer on every cake that I baked.'"
On the very last night, something happened that Gaggan says never happened before in all the years the restaurant and bar were in full swing. Someone called the cops. It was over.
Author's note: I reached out to Gaggan's partners via Facebook and email, but never heard back. I would still love to hear from them and get their help in updating this story as needed: andrew@thisfamilymeal.com.
If you like this post, chances are you'll like the newsletter I write too. Subscribe now to get Family Meal delivered every Tuesday and Friday. You (probably) won't regret it.
---